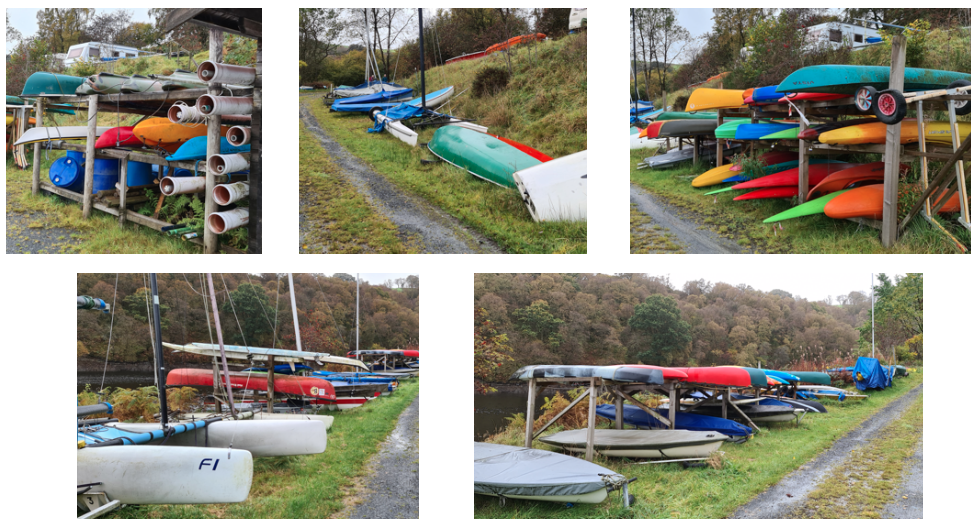 The club will be carrying out major ground works over the winter, this will include the clearing of earth for improved dinghy parking, drainage to improve areas of the boat yard and a new racking system for members Canoe and Kayak storage.
This work will be starting in November, therefore if you have equipment in the area of any of the photos above please do the following;
Any canoe/kayak stored in the areas of the photos above could you please ensure it is removed from site before the 1st November. There will not be space to stored it anywhere else onsite.
Any dinghy within these areas will need to be move on the 1st November to the camping area / Car Park area. This will be coordinated on the 1st by the Club Committee. Therefore if you have a boat here please come to the club on Sunday 1st November.
Sails/Mast in tubes in the photo; please remove these before the 1st November, this racking will be getting taken apart.
Caravan; If you have a Caravan on site please can you remove this before 1st November as the space will be needed on the car park for dinghies and building materials.
Volunteers
As a club we rely completely on the volunteers of our members to help. There are several dates below we would love to have help from members.
Sunday 1st November – Anybody with Dinghies in the areas on the photos please come to move your equipment
Saturday 7th & Sunday 8th November – General Working Party winterising the club. Lots of jobs to do.
Friday 13th to Monday 16th November – Ground works for winter works begin. We would love 4/5 volunteers each day to help with wheel barrowing of earth, laying drain pipes, laying new stone for dinghy parking.
If you are able to volunteer please could you contact Matt Jones on [email protected] or on Facebook.
Thank You for your help,
The Club Committee